Ballroom
Three function rooms in one for gala dinners, conferences, exhibitions
Abbey Beach Resort Busselton boasts an extravagant Ballroom, an impressive venue with a cathedral height ceiling and is suitable for all kind of functions such as gala dinners, conferences, exhibition space, and weddings.
It's covering an extensive 335m2. This venue can be set up in several different styles for occasions such as Banquet (230 pax), Classroom (188 pax), Cocktail (320 pax) and Theatre (320 pax).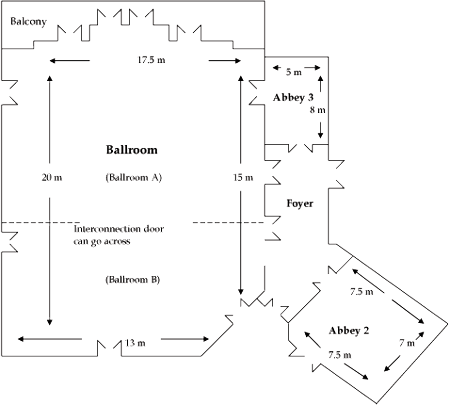 The Ballroom can be divided into 2 soundproofed areas giving further space for concurrent sessions, breakout or catering needs. Adjacent to the Ballroom area are also 2 rooms suitable for breakout, registration, secretariat or catering purposes.
Abbey 2
Adjacent to the Ballroom and Abbey 3, this 55m2 room is spacious enough for meetings and catering as well as breakout, registration or secretariat needs.
Abbey 3
This room is adjoining the ballroom with interconnecting doors. This space is ideal for registration, secretariat or gift room purposes.
Please contact our Function Centre for further information on our venue hire services in Busselton:
e functions@abbeybeach.com.au
p 08 9755 4600