Whale Watching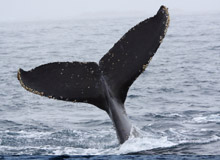 Have you ever seen a whale up close? Whale watching in Australia is a breath-taking privilege that can turn your Western Australia holiday into an unforgettable adventure. Their sheer size, grace and presence will steal your heart.
Whale Watching Australia - a holiday experience you will never forget while staying at our South West Accommodation.
Hundreds of whales play, feed, breed and travel close to the South West coast of WA between the months of June and December. Humpbacks and southern right whales are the most commonly sighted species, although the mammoth blue whales are regulars too.
September is the time our friends in the local whale watching business start to get really busy as the giant mammals begin their southern migration to Antarctica for summer feeding.
It's a truly magnificent sight to see large numbers of cows and calves in our Geographe Bay which provides calm and protected waters for the weary young. Some privileged passengers on board local charter services during Spring have even heard the enchanting "whale song".
Many lucky residents and visitors have also spotted migrating whales frolicking close to shore. If you prefer to keep your feet on solid ground, talk to a local visitor centre about known walk trails and vantage points for spotting whales.
Tours can be booked through the resort for Legend Charters, Naturaliste Charters, Geographe Maritime Charters, Whale Watch Western Australia or All Sea Charters
Please ask at reception during your stay or contact us by:

Telephone: 1800 017 097
Email: info@abbeybeach.com.au